Many beginners to online marketing are often told that starting a business online is easier because it's far less costly than setting up a brick-and-mortar business. This is true to a great extent. However, doing business online isn't cheap or free. Starting an online business is an investment!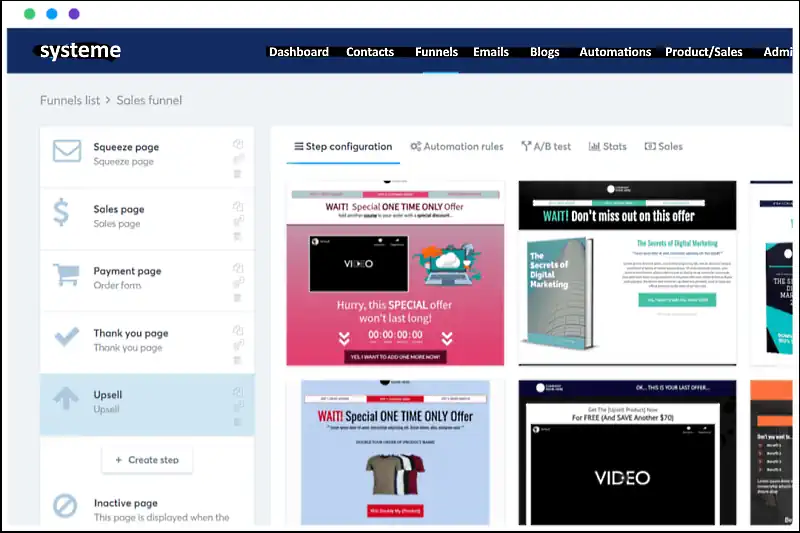 In fact, the costs can add up very quickly. You'll need to pay for a domain (yearly), reputable hosting (monthly), and a good autoresponder (monthly). You may want to buy a pagebuilder, or hire a designer, plus several other tools, depending on the type of business you're running.
Here's the problem…
Most people who come online to start a business tend to be on a tight budget. For many, that's the whole reason they're getting online. Asking them to pay hundreds of dollars a month for a multitude of tools will only add more financial pressure to their lives.
Plus, it takes a while to build a successful business… and to keep paying for services when they have not turned a profit just may not be possible, and has caused many beginners to give up and quit. The financial stress becomes too much to bear.
In the past, it was a struggle – but not anymore. Now there's a platform called Systeme.io that will save any marketer who's on a tight budget. It's no wonder this all-in-one marketing platform has over 300,000+ users and it's user base keeps growing by the day.
In this review, we'll take a close look at Systeme.io, highlighting its positive features and discussing its potential downsides.
The Benefits of Systeme.io
Free Plan
Many Features
Cost Effective
Convenient
Unlimited Storage Space
Unlimited Emails
Build a Community
Custom Domains
Excellent Support
And now, let's discuss these benefits in more detail.
It Has An Outstanding Free Plan!
With many platforms, there's usually a trial period for you to test out the service. Trials periods lasting anywhere from three days to as much as a month are common. But after that, you'll be required to pay monthly. Systeme.io is different. There is no limited trial period. You can use the free plan for as long as you want, or until your business reaches a point where you can afford to pay for an upgraded plan. You don't even need to input your credit card details to use the free plan!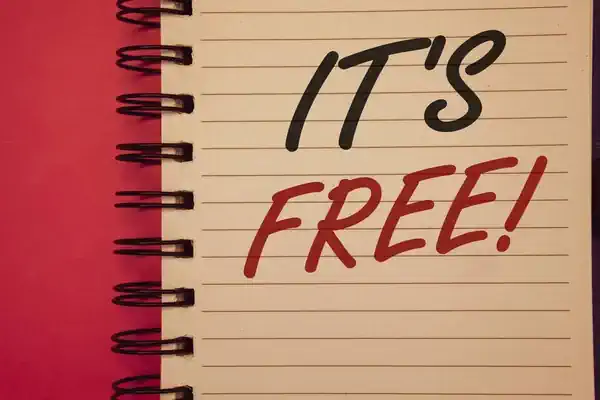 The free plan has plenty of features – enough for you to start selling and building a business without paying a cent. Once your business is getting consistent sales, upgrading to the better plans will help you to take your business to the next level.
This is brilliant because Systeme allows beginning marketers to get their businesses off the ground without paying through the nose. Once they're making a nice profit, and are ready to scale up, they can afford to pay for the upgrades.
If you're a beginner, you don't need to look any further than Systeme. It has all you'll need to get started.
Wide Range of Features
To understand how versatile Systeme is, you'll need to look at the features on this platform. Here's a basic list of what they offer:
Sales funnels
Email marketing
Website builder
Affiliate program management
Business automation
Evergreen webinars
Online courses
Blogging
Sell products
Even if you're on the free plan, you'll have access to most of these features. Here's what you can do with these features:
Create and sell info products & online courses
Build sales pages
Create sales funnels
Use upsells and order bumps to increase profit
Do A/B split testing
Accept payments with PayPal, Stripe, RazorPay, etc.
Use coupons to give discounts
Generate leads
Do email marketing
Run an affiliate program
Start blogging
Build sales funnels to generate leads and increase conversions
Run membership sites
I hope you are beginning to see what a powerhouse Systeme is. The best part is that you have access to most of these features with a free plan. There's plenty enough in the free plan for you to build a business and get sales. You have no excuses now!
It's Cost Effective
Instead of paying for different service providers such as:
LeadPages or ClickFunnels to build sales pages…
GetResponse or ConvertKit for email marketing…
AffiliateWP plugin for affiliate marketing program…
Teachable for building online courses…
MemberMouse or Wishlist Member for membership websites…
You have it all on one platform – SYSTEME.IO
That's fantastic and you'll pay a lot less. Or even nothing!
While it can be argued that Systeme lacks some of the more advanced features that some of the "stand alone" programs have, there's no denying that they lack a TON of features that Systeme has. This platform is like a Swiss army knife for online marketing – and you can build a highly profitable business with it.
From there, you may decide to either upgrade your Systeme subscription… or you may wish to use one or two other service providers so that all your marketing eggs aren't in one basket.
Convenience
One of the biggest problems beginners face is putting it all together. If you're selling a product, not only do you need to create the product… but you also need to build the sales pages.
Then you need to link up the pages to create a funnel. Let's not forget about integrating the payment processors and securing your downloads.
You'll also want to add customers to your email list and will need to integrate your autoresponder with your sales funnel. And so on. All this can get highly complicated, especially to those who aren't tech savvy.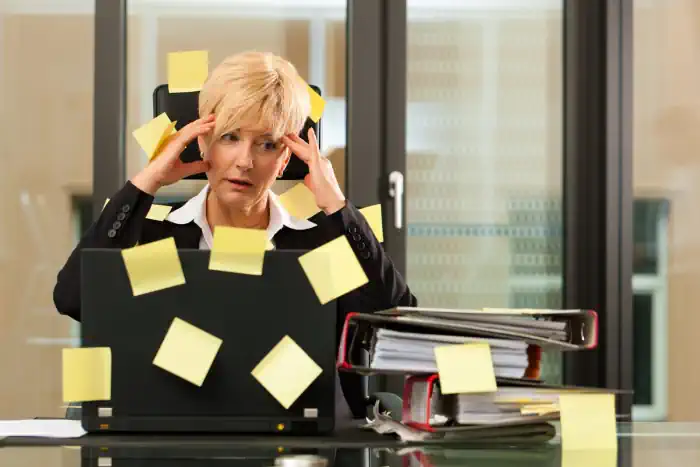 Systeme shortens the learning curve massively because it's all integrated on one platform.
It's easy to build sales pages with their drag-and-drop page builder. Integrating payments, your email marketing, automation and all the other bells and whistles are a breeze because Systeme has them all and every component plays well with the rest.
There's no need for extra programs, extra steps, and higher learning curves when setting things up. It truly is an all-in-one marketing solution.
Unlimited File Storage Space
Once again, the generosity of the Systeme team shines here. Even paid hosting services have limits on storage space. Systeme does not have storage limits – not even for the free accounts. So you could have a blog and unlimited blog posts without worrying about file storage space limits. Unbelievable value here.
Unlimited Emails
Systeme allows you to send unlimited emails to your list. Use this to your benefit and profit with it.
If you are on the free plan, you can have up to 2,000 contacts on your email list. If your list mostly consists of buyers, you'll definitely be able to make money with 2000 contacts, as long as your email marketing is on point.
Once you upgrade your plan, you can have 5,000 contacts… or more, depending on your needs. (See the chart below).
It Grows With You
The beauty of Systeme is that it allows you to grow at your own pace… and it grows with you. Unlike ClickFunnels which requires you to pay $97 a month whether you're making a cent or not, Systeme is a lot more lenient and forgiving.
It gives you all that you'll need to build a business with the free plan, and once you're making money consistently, you can pay to have more sales funnels, more blogs, more contacts on your email list… and more resources to cope with your increased business.
This scalable nature of Systeme makes it ideal for both beginner and intermediate marketers alike.
Here is a partial list of the feature upgrades per pricing plan. As you can see, the first upgrade is still quite affordable, especially since by the time you need it, you should be making a good profit on your business: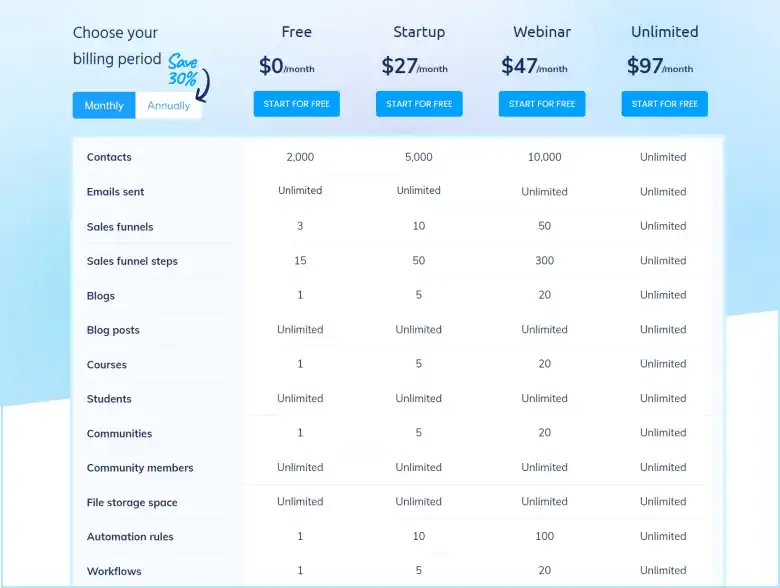 Build a Community
This is an interesting feature. While you could use Facebook groups to build a community, one cannot deny that there are just too many distractions on Facebook.
If you wish to build a community elsewhere, the currently popular Skool is quite pricey at $97 a month. Other similar options are costly too.
Luckily for you, Systeme offers this feature for free. So, you can build your tribe without paying extra – and yes! Even on the free plan, you can build 1 community.
Add Your Own Custom Domain
If you're focused on branding, you may not like the idea of having Systeme's URL on your pages.
Worry not. You can always add a custom domain on Systeme so that all your pages ONLY have your domain's URL.
Even the free plan gets one custom domain!
We can't overstate how generous Systeme is here. LeadPages, for example, charges you $37 a month just for one custom domain… and you have to pay annually! You're already $444 in the hole before you can even get started.
Systeme.io is definitely the better option here.
Excellent Support
If you have any issues, you can always contact the support team. They operate 24/7 and most tickets are answered within 2 hours.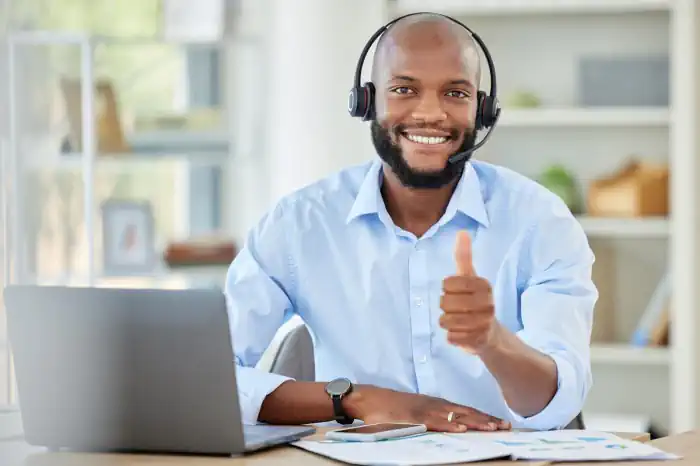 The Downsides
There are only 2 "cons" that we could find with Systeme.io. The good news is that these aren't deal breakers.
Some Features are Less Advanced
The first downside to Systeme is that while it provides you a ton of features, it lacks some of the more advanced features that some other service providers have.
For example, email marketing services like ConvertKit and GetResponse have advanced list segmentation and tagging features that Systeme doesn't.
This is understandable because these brands are solely focused on email marketing services. They're specialists in their field.
Systeme is a generalist. It gives you many features, but as your business grows and you become a more experienced marketer who needs these more advanced features, you may want to rely on tools outside of Systeme.
You Are Tied to the Platform
The second downside to Systeme is that if you're building a blog or multiple sales pages on the platform, and you upgrade to a paid subscription, you'll need to keep paying to keep your pages online.
Once you stop paying, you can't transfer your pages elsewhere because your assets are built on the Systeme platform.
While this is true for most platforms such as ClickFunnels, LeadPages, etc. it's still a downside.
You could build your pages with OptimizePress on your own site and not pay a fee – BUT you won't have all the other features that come with Systeme.
So there's a tradeoff here – you'll be sacrificing some independence for utility and convenience. All in all, Systeme.io is still a fantastic platform to use.
What's Next?
There's no point in hyping up Systeme. The service speaks for itself.
After seeing the features and benefits, signing up for it is a no-brainer, especially if you're a newbie to online marketing and you're on a tight budget.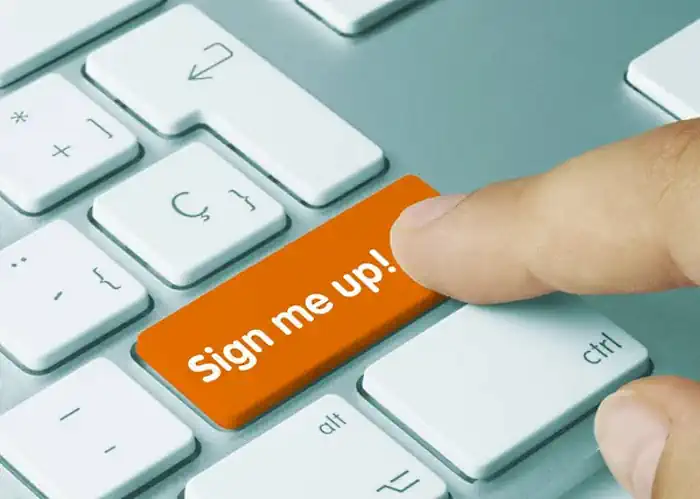 Systeme.io is easy to use and the interface is almost intuitive. There are tutorial videos on YouTube to guide you, and once you're familiar with the platform, you'll absolutely love it.
Systeme allows you to build funnels, run a blog, do email marketing, have an affiliate program and even build a community… and this is just the tip of the iceberg!
What more could you ask for?
Give this versatile and profitable platform a try today. It has most of what you'll need and you'll be glad it's in your marketing arsenal.